Warhammer Mark of Chaos : Battle March
Primele 2 jocuri Warhammer ,Warhammer: Shadow of the horned rat (1995) si continuarea Warhammer: Dark Omen (1998) au dat o noua dimensiune jocurilor de strategie in timp real ,in special cel de-al doilea care oferea grafica mult optimizata pentru placile video 3Dfx Vodoo ,imaginea de ansamblu a terenului respectiv cladirilor cu ajutorul unei camere rotative a ajutat la o mai mare imersiune ajucatorului in batalii. Am fost dezamagit de seria Warhammer 40000 a trecut la un stil S.F. ceea ce nu m-a incantat. Datorita acestui fapt, nu am mai urmarit cu interes seria Warhammer.
Intamplator am dat peste Warhammer Mark Of Chaos : Battle March, un addon la Warhammer Mark of Chaos. M-a acaparat imediat dupa ce am vizionat clipul de mai jos.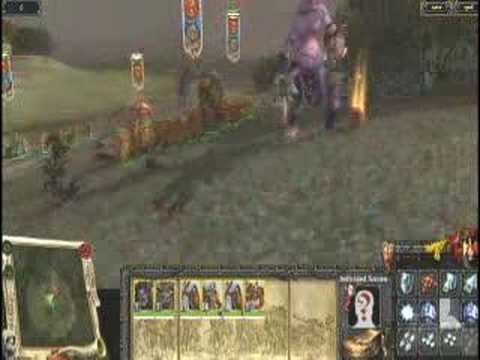 Actiunea se petrece intr-un spatiu gen middle-earth, acesta fiind macinat de razboiintre 3 grupari:
Fortele binelui: Humans(homo sapiens – uneori doar homo erectus) avandu-i ca aliati pe Dwarfs(pitici cu barba lunga si femei urate) si Elves(oameni ai padurilor cu urechi alungite si femei frumoase).
Fortele haosului :Northmen(un fel de scandinavi probabil – dar rai) si Ratmen(oameni sobolan – probabil politicieni)
Si Orcs(astia sunt prezenti cam peste tot – seamana cu niste porci mistreti pe doua picioare)
In the First part ,Warhammer Mark of Chaos, there are 2 campaings ,each having 4 chapters ,each of these chapters having a number of battles in wich you will have to manage your troops carefully as replacements to the fallen soldiers in a unit will cost gold that is sometimes very scarce.You can buy upgrades to these units ,like armor ,weapon,siege equipment,banners and some others.There are Hero units wich are very powerfull being able to level up to lvl 40 gaining skills wich you will have to choose as you see fit.There are also creature units that are very powerfull if you use them wisely.The units wich you control are also able to level ,but only to level 3 each level increasing the number of soldiers the unit can have,except the creature units wich will level but will only have 1 creature in it. Another good thing to have are items and potions wich u can either find on the battlefield ,sometimes in destroyed buildings,or you can buy them when u get the chance after the battle,these can only be used by Hero characters,,banners can only be used by units.There is a good variety of heroes ,each with different skills or spells (in case of mages),for some you can buy mounts,wich will increase their stats.The battles are sometimes too easy but in a few of them you have a certain amount of time to end a siege, or to resist an assault but this game has a well developed multiplayer ,so you can try you wits against other human players over the internet.
The Addon called Warhammer Mark of Chaos : Battlemarch is focused on the Orc faction and later in the campaign u will play both the orcs and the Dark Elves faction in the single campaign that this add-on offers but it will be harder then the 2 campaigns from the previous game ,also this addon comes with new items for the orc and dark elf heroes,new units (belonging to these new factions)that are also available in the multiplayer game.A minus would be the high loading times for each battle even on good computers.
All in all from my point of view Warhammer : Mark of Chaos and the add-on Battlemarch is a great return to the medieval fantasy strategic battles wich has made Warhammer:Dark Omen such a great game,all that remains to be said is go and get it.